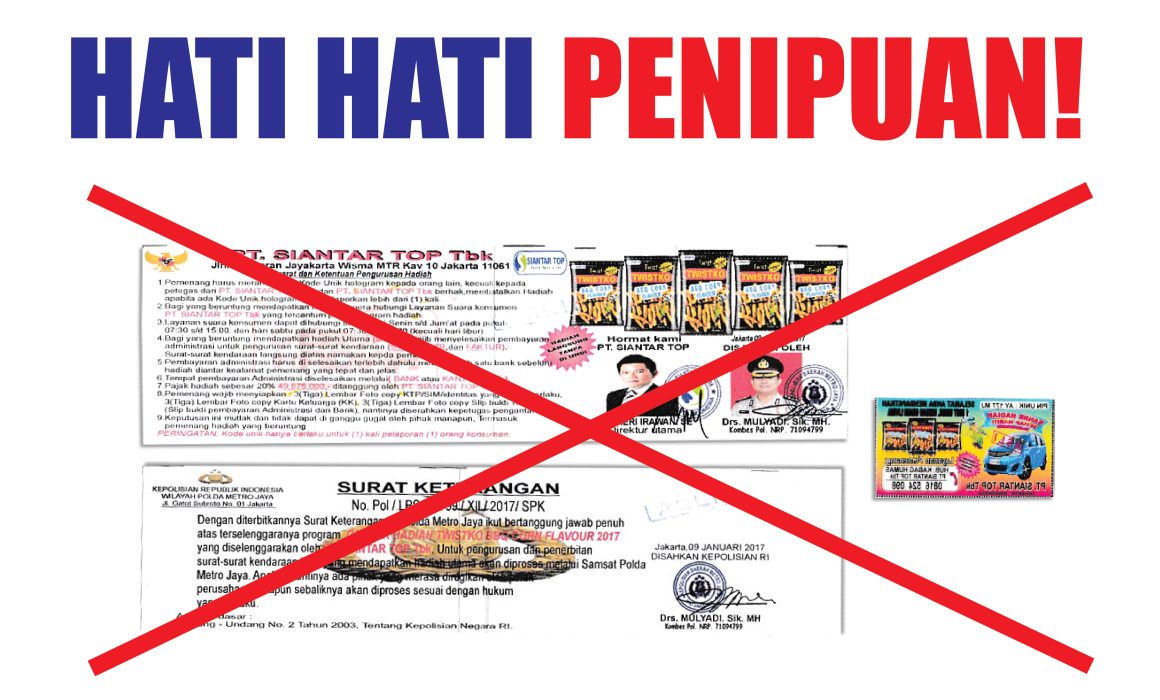 Dear All beloved consumers,
PT SIANTAR TOP has good intention to protect all consumers and to prevent victims of the lottery scam which announced by anonymous on behalf of company PT SIANTAR TOP through SMS (short message service), a prized coupon found inside the products or through other unverified social media channels. Recently we received reports from consumers claiming that they find a "win a car" prize coupon inside TWISTKO product produced by PT SIANTAR TOP. Responding this case we advise our consumers to pay attention to some details as follow:
1. PT. Siantar Top, Tbk address is :
           a. Sidoarjo Jl. Tambak Sawah 21 – 23 Waru Sidoarjo 61258
           b. Bekasi Jl. Raya Narogong Km. 7 Rawalumbu – Bekasi 17117
           c. Medan Jl. Raya Medan- Tanjung Morawa Km 12,5 Desa Bangun Sari, Kecamatan Tanjung Morawa Deli                      Serdang Sumatera Utara 20362
2. At this time, PT Siantar Top DO NOT conduct any kind of Lottery program. There fore we urge consumers NOT to trust any notification from anonymous who acts on behalf of PT SIANTAR top by SMS, telephone or other unverified social media channel informing that they are one of the prize winners.
3. PT. Siantar Top also strongly advise consumers to be more cautious if they find a prize coupon inside products. Please DO NOT remit money to any unverified third party without doing confirmation / valiadtion to our customer service hotline number (0800-111-0000) from Monday to Friday, business hours: 08.00 – 16.30 WIB
4. For those who perceive themselves as one of the victims, please report scam crime to police station.
Herewith we issue the Alert letter and we urge consumers to be always discreet and thoughtful,
Best Regards,
Manajemen
PT. Siantar Top, Tbk